I had a pick-up to do and had set my alarm for 2 warnings. The first one went as I was dropping off a job
then in an instant another job came in.
Now I should have cancelled the other job as it had come in without me wanting it
BUT I figured that it might be a shortie and it may be going in the same direction.
Boy was I wrong, everywhere the traffic was stopped and try as I could I couldn't get back.
Just as the traffic loosened out I got a call and a heap of abuse from my booking.
She was right, somehow I should have cancelled the other call.
But I cruised on towards her address,I was there in 10 minutes then as I was coming out her address her
new HailO cab turned into her street.
When we were busy 4 dudes waved me down, I had a feeling.
"Have you booked another taxi?"
"Yes we booked Uber"
My car is branded head to to for HailO.
"Don't wave down anyone when you have a booking.Its very busy now, by the way Uber has surge
charging"
When it's busy you pay 3 or 5 times the rate.
Then this girl with soft voice arrived and you just knew she was a star.
Éabha McMahon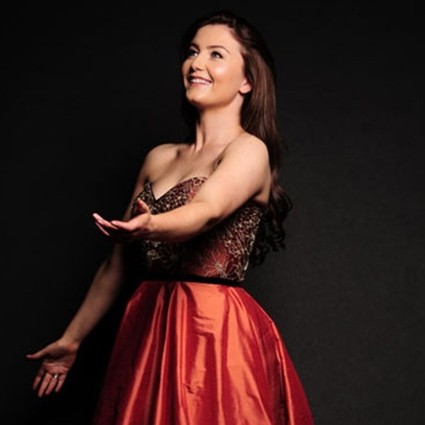 Éabha began her singing career at 9 years of age, when she was chosen by Veritas to record an album
for the children's book, Beo go Deo. She then began singing in the traditional sean nós style, taught
by famous singers such as Máire Ní Choilm, Séamus Mac Mathúna, Moya Brennan, and Íde
Mac Mathúna. Éabha went on to win the under-18 All Ireland Oireachtais final at the age of 15, she
was reigning Leinster champion from the age of 13 to 17 in the Fleadh Ceoil, and five time Dublin
champion in the Fairview Feis Ceoil age 14-18.
At the age of 15, Éabha was appproached to audition for Anúna, (the Original Riverdance choir) and
in 2005, Éabha became the youngest member to join Anúna. In 2006, she went on tour to the US
where the Anúna Christmas Memories DVD was recorded for PBS and reached the top 10 in the
Billboard charts that year. She also went on tour to Holland and Germany, as well as singing in venues
such as the National Concert Hall, Dublin Castle, Stormont, Farmleigh House and Kilmainham Jail.
In 2015, Éabha headlined a sold out solo show in New York City, in aid of Kylemore Abbey. She is
currently developing her first solo album which she will be releasing in 2016.
Éabha is a fluent Irish speaker and was brought up singing and speaking Irish at home in Dublin.
Éabha is delighted to begin this new journey and she is very proud to be representing her Irish roots
with Celtic Woman.